A Time to Give Back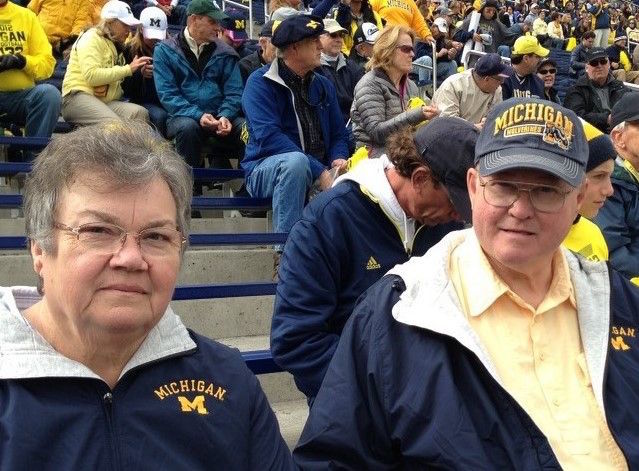 Tom Heisler admits that he "wasn't the best-behaved kid" while he was a student at Great Falls Central Catholic High School. But he also notes that didn't stop his teachers and coaches from putting up with him. In fact, he said they genuinely cared about him and actively worked to ensure that he would have a happy future.
When Tom was preparing to graduate from Central in 1961, one coach in particular, Hugh Bushly, went out of his way to help him get a football scholarship to Western Montana College in Dillon, where Tom played left tackle for the Bulldogs. Tom became reacquainted a few years later with Mary Jane (who had also attended Central for a bit) at the Augusta Rodeo. They married and had three children: Thomas (Tom) III, William (Bill), and Christa. The Heislers have owned several different businesses in Great Falls and, as they look back over the last 52 years, they attribute much of their success to the education and support they received as students at Central. As Tom says, "a Catholic education is one of the most thoughtful things you can do for young people."
This passion for giving back and helping others is a big part of why Tom and Mary Jane recently donated $250,000 to the Catholic Foundation of Eastern Montana to launch the new Tom and Mary Jane Heisler Family Scholarship Endowment for the benefit of Central Catholic in Great Falls. Their goal is simple: to make Central financially feasible for students whose families would be unable to afford the tuition otherwise. By starting an endowment to support this mission, the Heislers have ensured that they will be giving back to Central for generations to come. "A faith-formed quality education should be within the reach of any family that wants that for their children, and wonderful people like the Heislers, who believe in our school, make it possible," said Angel Turoski, Central Principal.
The Heisler children are proud and supportive of their parents' generosity. "I'm happy they created this endowment—this will be a great opportunity to help a lot of kids," says their son Bill. "Our parents have always been great supporters of the community, especially as local business owners, giving back whenever they could." Tom and Mary Jane invite others—especially those who had the good fortune of attending Central—to pitch in and join them in supporting this endowment. Here at the Catholic Foundation of Eastern Montana, we thank God for Catholic education and for blessing the Heislers with generous hearts.