$71,700 In Foundation Grants Awarded To Catholic Organizations In 2021
Stay tuned to see what our grants accomplish for the Church of Eastern Montana!
Grant Guidelines 2021 Grant Impact Report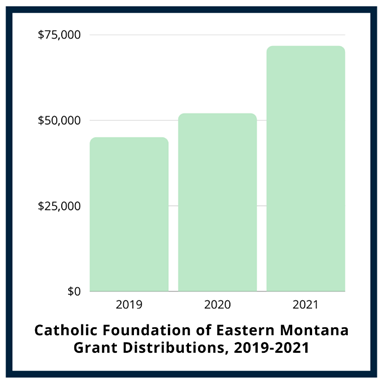 In July of 2021, the Catholic Foundation of Eastern Montana awarded more funding than ever before in our grant program! Seventeen different Catholic parishes, schools, and organizations throughout the Diocese of Great Falls-Billings received a total of $71,700 in grant funding!
With these grants, improvements will be made to youth ministries and religious formation programs; parishes with outdated equipment; churches in need of repairs or handicap accessibility; and many other projects. This is all possible because of the generosity of donors who give to the Greatest Needs Endowment or Parish Assistance Endowment at the Catholic Foundation of Eastern Montana.
We and our grantees are so thankful to our donors. It is an honor to put your gifts to good work throughout our diocese!
Your grant will help us introduce many more to our apostolate and ultimately to Christ. Please accept our deepest appreciation! – Roy Brown, Executive Director of Billings Catholic Radio