2018 ushered in lots of changes in the tax scene in our country. But do you know what didn't change? Your opportunity to receive a nice, healthy 40% tax credit in Montana, simply for giving to build the future for the Catholic Church in our diocese!
The "Montana Endowment Tax Credit" is slated to sunset next year. While we hope it will be renewed by the 2019 Legislature, what is certain now is that it is available for all of us to take advantage of this year.
This amazing giving incentive isn't difficult to receive or understand, but as with many things, we don't always hear something until we are ready to hear it. That means that when you find yourself filled with the desire, or simply being called, to make a long-lasting and impactful gift to help build the Catholic Church, it is a perfect time to talk with us at the Catholic Foundation of Eastern Montana about the "Montana Endowment Tax Credit."
Who Used the Montana Endowment Tax Credit 2017?
Many Catholics in our diocese claimed the Montana Endowment Tax Credit in 2017 to make a meaningful gift for the benefit of their own parishes, their local Catholic schools, or their favorite ministry in our diocese. We wrote nearly 50 planned gifts for Catholics who donated to at least one permanent endowment of the Catholic Foundation of Eastern Montana. The graph below illustrates the beneficiaries of these gifts:
Planned Gifts Benefit the Church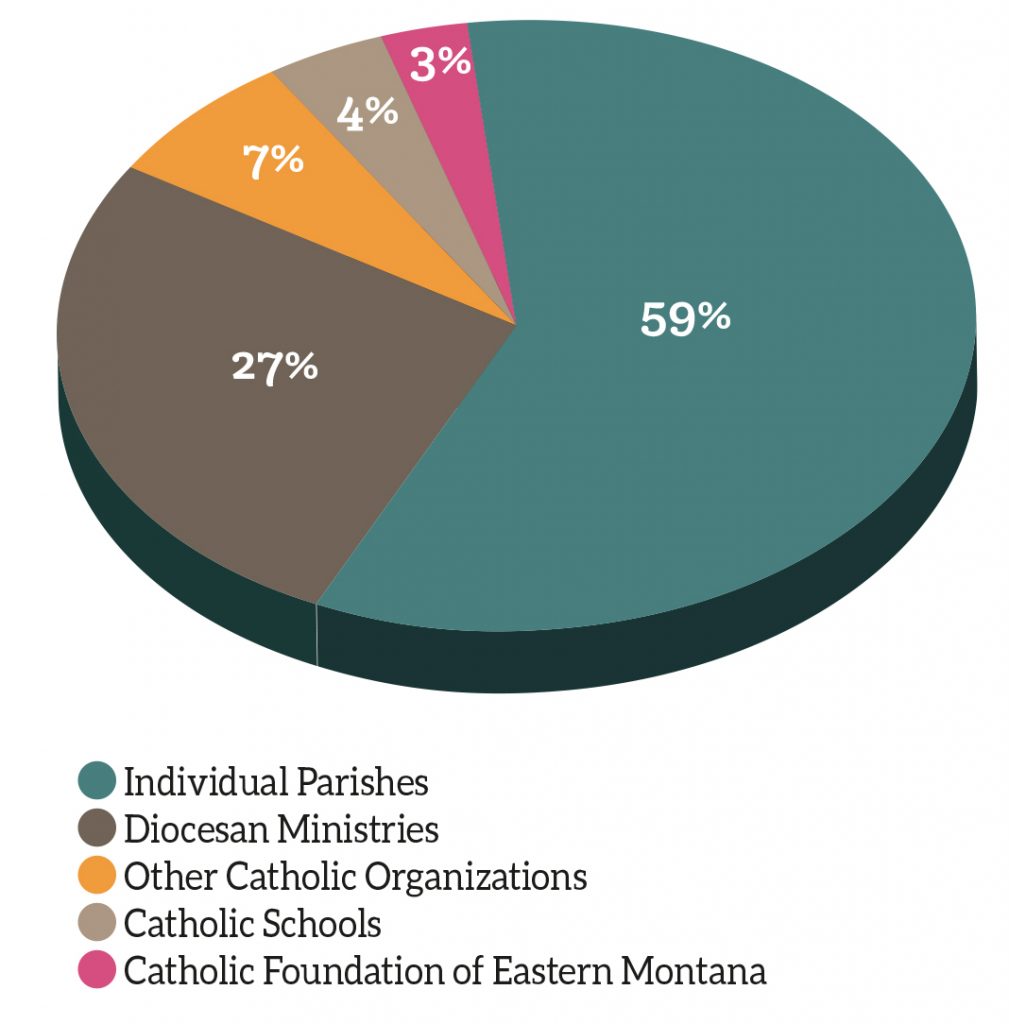 To be more specific, here is a list of all the permanent endowments parishioners gave to at the Catholic Foundation in 2017 (through planned gifts that qualify for the "Montana Endowment Tax Credit"):
Endowments for Ministries:
Greatest Needs Endowment
Parish Assistance Endowment
Priest Retirement Endowment
Seminarian Education Endowment
Tribunal Endowment
Youth Ministry Endowment
Endowments for Individual Parishes:
Holy Spirit – Great Falls
Mary Queen of Peace – Billings
Sacred Heart – Miles City
St. Leo the Great – Lewistown
St. Mark – Belt
St. Mary – Rocky Boy
St. Mary – Malta
St. Matthew – Sidney
St. Michael – Absarokee
St. Pius X – Billings
St. Raphael – Glasgow
St. Rose of Lima – Stanford
Catholic Schools:
Great Falls Central Catholic High School
Sacred Heart School – Miles City
Other Catholic Organizations:
Poor Clares of Montana Endowment
St. Vincent de Paul Endowment – Billings
Are you saying, "I want to hear more about this"?
Please contact me!
Judy Held
Catholic Foundation of Eastern Montana
PO Box 1345
Great Falls, MT 59403
(406) 727-6683, ext. 120
[email protected]