Family Matters
By Anna Attaway, Communications and Development Specialist
The Wathen family puts their faith into action together. Throughout Monsignor Daniel Wathen's priestly ministry, his parents John and Rosie have been wonderful allies. They renovated rectories, helped at the schools and parishes where he has been placed, and much more. After his mother Rosie's passing in 2020, Father Dan created the Wathen Family Endowment at the Catholic Foundation of Eastern Montana to benefit St. Jude Thaddeus School in Havre.
Father Dan says this endowment is intended to both honor his family and witness to what's important to them: the loving family that each person can find in the Catholic Church. Through the priesthood, St. Jude's has truly become Father Dan's family—a family that can be faithfully supported by endowments, ensuring that St. Jude's students receive a faithful Catholic education, one in which the spiritual formation and human formation are just as important as the academics. "I want people to know, generations from now, that our family thought the ministry of St. Jude Thaddeus School, and the students there, were that important."
The Catholic education students receive at St. Jude Thaddeus School (Preschool and K-8) is truly remarkable. "Children today face so many challenges…they need the support of teachers who know them, and love them, like they're family." Father Dan comments that the love and support these students receive even creates a certain "family resemblance." More than once, students who have moved on to the public high school have been told, "You must be a St. Jude kid!" The students at St. Jude's are able to talk to adults and are persistent in asking for whatever help they need. Ultimately, they know that they matter, and that people care about them.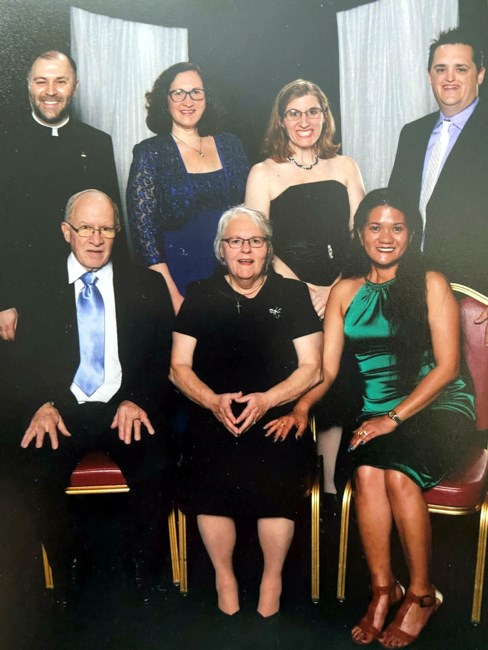 Monsignor Daniel Wathen with siblings Rosanna, Amy, David and his wife Nadia, and parents John and Rosie. (Not pictured: his sister, Andrea.)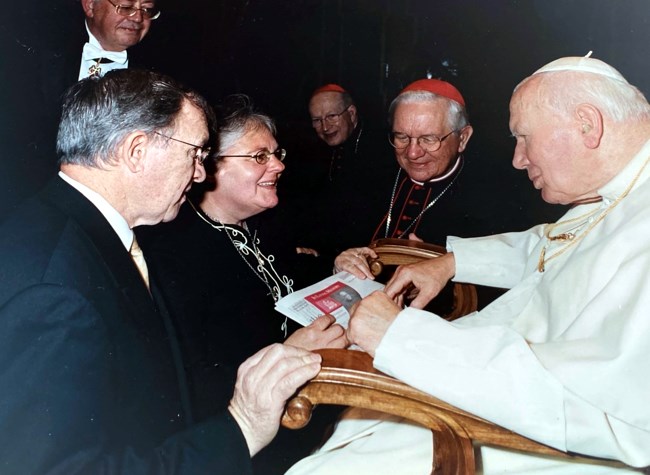 One of Rosie's favorite memories was meeting Pope Saint John Paul II in person in 2002. In this photo, she is presenting the saint with a copy of The Harvest that contains the obituary for Monsignor Joseph Gluszek (1910-2002), a priest of our diocese who was JPII's friend.
Father Dan also hopes that starting the Wathen Family Endowment will lighten the burden of fundraising for St. Jude's teachers and, particularly, its administration. "Endowments really make ministry easier," he noted, "and I want to build something that will outlive my assignment. There will always be immediate needs for a school or parish, but with the Foundation you have a protected and steady source of income. This creates hope for future priests. They won't have to worry about basic needs like payroll. They will be free to think big about stewardship, and they can just really take care of the kids."
There are many ways to ensure that Catholic schools like St. Jude Thaddeus have the resources they need—but endowments are one of the best. Anyone can donate to an endowment at the Catholic Foundation of Eastern Montana. Those who do can be confident that their gifts are creating a secure, reliable income stream for the chosen beneficiary that will last forever… or at least until Christ returns. What a beautiful way to care for our big Catholic family, the Church!
"Giving this way—it brings you a lot of joy to know that decades or even centuries from now, the kids at St. Jude's will grow up and realize that someone who died a long time ago cared enough about them to ensure that they could have a great Catholic education."
– Monsignor Daniel Wathen Vicar General of the Diocese of Great Falls-Billings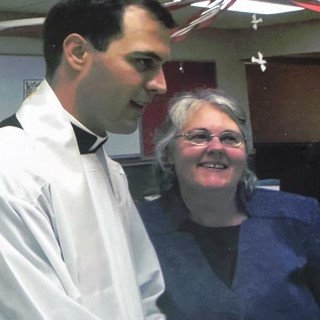 If you are interested in supporting the Wathen Family Endowment, or starting an endowment of your own, or making a gift (of any size) to another of our 125+ endowments at the Foundation, please reach out to Judy ([email protected] or 406-315-1765).
How can I DONATE?