Cami Chandler
– St. Thomas the Apostle , Billings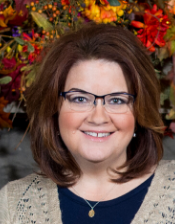 Cami Chandler was born in Great Falls and moved to Billings when she was six. Some of her fondest memories of her childhood include having tea with her grandparents who lived a block away from her home. She grew up watching her grandparents lovingly care for her uncle who had a brain aneurism. The bus would drop her off at her grandparents' home every day and she would often times find her grandmother in the middle of a rosary or devotion. Cami has been a parishioner of St. Thomas the Apostle for over forty years. Going to Mass at St. Thomas was a true family affair as her parents, grandparents, aunt, cousins and sisters attended. Cami studied communications at University of Montana and married Dave in 1991. They enjoyed raising their two daughters in the church and are proud that both girls were married in the Catholic Church and now attend Mass with children of their own. Cami and Dave love spending time with four grandchildren, all baptized into the faith.  The family is still filling up that same old pew at St. Thomas!
Cami is a small business owner specializing in importing promotional advertising and marketing products from all over the world. She accepted the invitation to join the Catholic Foundation of Eastern Montana at the urging of Bishop Michael Warfel. "It is my prayer that I am able to use my gifts and talents to benefit the Foundation and ultimately, the Catholic Church in Eastern Montana. The vitality and strength of the church is something I am passionate about as it has affected me in so many personal ways. My Catholic faith has been the most valuable gift my parents have given me. And I want to see the church thrive and grow in our state and beyond." A recent past Rectora for the Cum Christo, Cami says the love of Christ has deeply touched her heart and feels it is a personal responsibility to bring the light of Christ to others through action. Talk the talk, and walk the walk. She often asks "Are you a fan of Jesus or a follower of Jesus?"
Cami and Dave enjoy riding their side-by-side on trails all over the state. Cami also enjoys hiking, reading, writing, crocheting and family poker games.