Robert G. (Jock) Michelotti, Jr.
– St. Thomas the Apostle Parish, Billings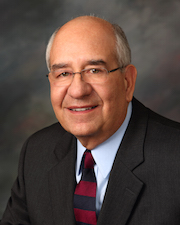 Jock is a Partner with Crowley Fleck PLLP. Jock received his undergraduate degree in accounting from Notre Dame, a Masters of Business Taxation from the University of Southern California, and his law degree from Notre Dame. His education and work experience as a CPA led him to a practice focused on estate planning, estate and trust administration, tax, real estate, and business law. Over the years, Jock has enjoyed participating in the Billings business, education, and non-profit community in a meaningful way. He was privileged to receive the 2003 Professionalism Award from the Yellowstone Area Bar Association, the Friend of Billings Clinic Award in 2007, and was selected as the 2009 Distinguished Graduate of the Billings Catholic Schools. Jock and his wife, Connie, have three daughters, Nicole, Christina, and Marissa.