Rev. Peter Guthneck
– -St. Anthony Parish, Box Elder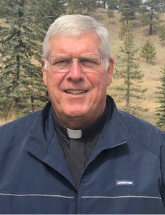 Reverend Peter Guthneck was born and raised in Wisconsin. He first began visiting the Rocky Boy's Indian Reservation in Northcentral Montana while a student at Loras College in Iowa, at the invitation of the Catholic Family Movement of Minnesota and Iowa and Father Raymond Nyquist, longtime priest of the Diocese of Great Falls-Billings. Later on, while studying at St. Francis Seminary in Milwaukee, Wisconsin, Father Pete transferred from the Madison, Wisconsin diocese to our diocese in Montana. Father Pete was ordained in 1971 and Bishop Eldon Schuster made his first assignment as the priest to serve in Poplar, Brockton and Fort Kipp on the Fort Peck Reservation.
In 1977, Bishop Schuster re-assigned Father Pete to Big Sandy and Rocky Boy and Box Elder on the Rocky Boy's Reservation. He served as the Pastor in these three parishes until his retirement in July of 2018. Father Pete now resides between Box Elder and Big Sandy.
Father Pete has actively supported the Catholic Foundation of Eastern Montana since it was founded in 1999. As the shepherd for his three churches, he worked diligently through the years to build endowments for each of them. Those endowments will continue to distribute funds to these churches forever, providing a level of stability for which Father Pete had hoped before he retired.
When asked why he accepted a position on the Foundation's board of directors, he replied, "I hope to encourage people of other parishes and missions to look long-term regarding their financial viability. I also want to invite those who have moved away from the churches in which they may have been raised to help our smaller, rural parishes."