Bishop Michael Warfel
– Diocese of Great Falls-Billings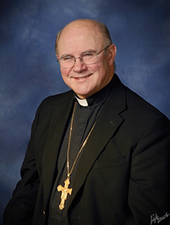 Michael Warfel was born in Elkhart, Indiana, and studied at Indiana University. He left his studies to enlist in the U.S. Army, serving 18 months in Vietnam and 13 in Korea. He was honorably discharged in 1971 and entered St. Gregory's College Seminary in Cincinnati, Ohio, as a seminarian for the Diocese of Fort Wayne/South Bend in 1972.
He attended St. Gregory's College Seminary in Cincinnati, Ohio, earning a Bachelor of Arts degree in philosophy. He received a Master's of Divinity from Mount St. Mary's Seminary of the West and a Master's in Theology from St. Michael's College in Colchester, Vermont. He was ordained a priest for the Archdiocese of Anchorage by Archbishop Hurley on April 26, 1980.
On December 17, 1996, Michael William Warfel was ordained a bishop by Archbishop Hurley and installed as the fourth Bishop of the Diocese of Juneau. While Bishop of Juneau, he served as Apostolic Administrator for the Diocese of Fairbanks from Oct. 2001 to June of 2002.
Bishop Warfel was appointed as the 8th Bishop of the Diocese of Great Falls-Billings on November 20, 2007, and installed on January 16, 2008.
Regarding the importance of the Catholic Foundation of Eastern Montana, Bishop Warfel says, "An organization like the Diocese of Great Falls-Billings depends heavily on the generosity of parishioners who contribute financially for the well-being of the Diocese in support of parishes and the diocesan mission. My focus as a bishop is often on raising a sufficient amount of funds to support a fiscal year budget. Having come from my precious diocese in which there was no foundation, I quickly discovered just how important a foundation can be in support of a diocese. In a way, the endowments that provide financial support from year to year are like gifts that keep on giving. Endowments are incredibly important for the future well-being of this diocese."